General Atomics Aeronautical Systems demonstrated a soldier on the ground using a tablet computer to control an MQ-1C Gray Eagle Extended Range unmanned air vehicle (UAV).
The demonstration, which occurred on 23 April at Yuma Proving Grounds in Arizona, showed a Joint Terminal Attack Controller using a tablet to control the electro-optical/infrared camera on the aircraft, the company says on 13 May. Joint Terminal Attack Controllers are military service members trained to call in air strikes close to friendly troops.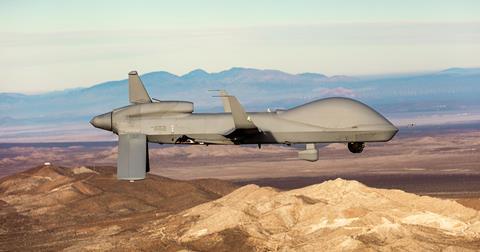 The tablet computer, running an Android Team Awareness Kit app and using a TrellisWare TW-950 TSM Shadow Radio, allowed personnel to view the UAV's video feed, location and sensor field of view. The tablet also allowed the controller to call for artillery support and close air support.
"The Gray Eagle Extended Range, configured for multi-domain operations,…